News
Katie Stengel X Umbro
Umbro is proud to welcome USA Women's international Katie Stengel to the double diamond family.
The explosion of women's football has captivated a new generation of fans worldwide. If there's anyone who's been at the forefront of this surge, it's American forward Katie Stengel. Katie has played across various teams in the States, and was part of the first wave of American players to sign for prominent clubs across Europe and today, Katie is playing in Liverpool.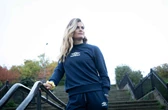 "Signing with Umbro has been so exciting, it's an honour to know that such a historic brand sees value in me and that they want to lend their support and investment in my career."
It's a career that's taken Katie across many European clubs, and she's always looked to represent her country in the best light. "There were only a few of us over in Europe eight years ago, so it was tough," she reflects. "It felt like we were trying to break the stereotype of what an American player was meant to be. I wanted to prove that I did belong in this environment and that I could compete."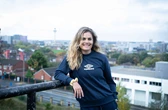 After stints in Germany, the United States, Australia, and Norway, Katie settled in Liverpool at the beginning of 2022. "I did not see myself here ten years ago, and it's humbling to see how far I've come," says Katie. "The cultural differences have been quite an adjustment, but I'm in love with this city – the parks, historic buildings, the river, you name it."
You can find out more about Katie's story on @umbrousa social channels now.