Campaigns
Futsal Masterclass: 1 v 1 defending
Pro Futsal player and England international Doug Reed is back for another series, covering futsal skills that you'll need to improve your game.
First up, Doug shows you how to approach defending in a 1 v 1 situation. When the opposition is on the move, this is key for breaking down the attack and turning it into an opportunity for your team.
Stay tuned for more skills content coming soon on @umbro social channels and umbro.com or search #futsalmasterclass.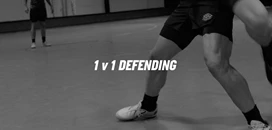 Futsal Masterclass episodes