Campaigns
Make New X Nouveau Nova
We are celebrating the art of upcycling and the work of creators around the with our latest campaign 'Make New'.
For chapter 1, we've teamed up with Nouveau Nova who was challenged to use pre-loved Umbro jerseys and transform them into a unique garment in her signature style. We caught up with Nova to talk about her first steps into upcycling, inspirations, and the piece she has created.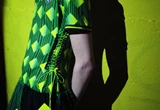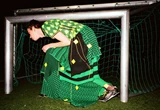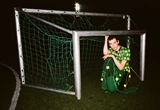 What inspired you to start working on upcycled projects?
I've always felt the urge to design and create, but at the same time really been aware of the responsibility of my actions - climate wise. Therefore, for me at least, it feels so much more meaningful to re-create, upcycle, make new from what's already existing. I also find it to be a very creatively thankful way of working, because the pieces or fabrics you work with then comes with a personality, a soul or a feeling. It gives you the opportunity of limits which can be very helpful at times. 
Where did the inspiration come from for your unique style of work?
Nouveau Nova actually started as a mistake. I had just bought a pink jersey at a flea market in Paris and when I washed it, I used the wrong setting on the machine and the back of the jersey melted away.
I Immediately found myself brainstorming on how to bring it back to life and immediately thought of crocheting. So, I cut the back of the jersey off and crocheted a new one in a fluffy, pink yarn with my own name and lucky number – 8. I also crocheted the sleeves, and by the time it was done, I realized that I had just made something I had never seen before and that I really liked too. Since that day, I've been upcycling football jerseys with yarn and selling them via social media.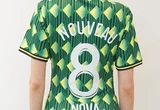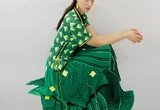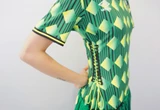 You've created a unique project for Make New, tell us more about it.
The essence of my project is contrasts - the contrast between the stereotypically more masculine football jersey versus the stereotypically feminine shape of the gown, the synthetic, durable football jersey versus the very porous knitted panels in cotton, the two-dimensional top versus the three-dimensional bottom and so on.
What tips would you give to anyone looking to start their own upcycled projects?
If you've never upcycled before, I think you need to begin by trying to see the potential in all kinds of objects and convince yourself that "trash is treasure". When working with upcycling, you don't have the same control as when working with new materials. That's the magic. Being open to surprises and ready for adjustments, that's my best tip.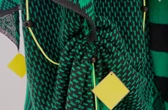 Find out more about Nouveau Nova's project on @umbro social media channels or by searching #MakeNew. Have you got upcycling skills? Why not upload your work here and you could become an official Umbro upcycler.
Photography by Betty Krag.