You have fallen in love with his #MakeNew winning project, now its time to meet creative talent behind it.
In October, Egor was crowned our #MakeNew winner with his project "Umbro:Reimagined'. Inspired by traditional racer garments, the outfit offered a fresh take on a biker jacket and pants. To create this, he used a wide variety of products from Speciali boots to balls, bags and more.
We caught up with him to find out more about what inspired him to take up upcycling, joining the brand and his hopes and dreams for the future.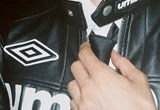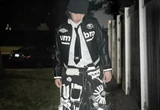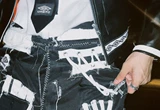 How did you first discover upcycling?
When I was in high school, I got interested in 90's and 2000's fashion. There were many clothes I wanted, but most of them were too expensive and out of reach. So I decided to make my own clothes, discovering that if I made my own clothes, I could create one-of-a-kind, money-saving clothes that I wanted to wear.
Tell us about your first upcycled project?
At the time, I did not really have enough money to buy clothes, so when I wanted to buy clothes, I often went to thrift stores to save money. I love oversize and baggy fits and these stores didn't have many options that I liked, so I bought two pairs of regular pants, combined them, and even hand painted my own artwork on them as a way of customising them. This then became my first creation under the name Egor and I haven't looked back since.
What inspires your projects?
I get ideas from so many places and often, its daily life that proves the most inspirational. From seeing so many unique styles on the streets to architecture, artwork, music and more. I also like to think this inspires my own style, combining different styles such as sportswear, business chic and hip-hop to expresses the freedom of fashion.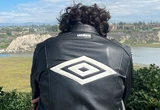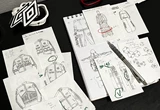 Which materials do you prefer to work with?
Clothes and materials aren't cheap so tend to purchase pre-loved clothing from thrift stores instead of fabric and borrowed my mother's sewing machine to make the pieces. Using inexpensive materials comes with slightly less risk I feel but also pushes me to use my design and creative skills to bring them to life in really interesting ways.
Your were voted as #MakeNew winner, how does that feel?
I am beyond happy and so honored to have won the competition. I am also grateful to my family and friends and all the people who supported me and voted for me. My father has always been a fan of the brand and we had so many shorts, tracksuits, boots, and jackets at home. Umbro is a truly special brand for me and my family and associated with so many fond memories with more to come in the future.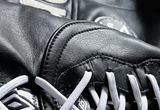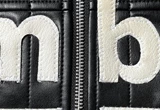 You've joined Diamond FC, what does this opportunity mean to you?
Even before the #MakeNew contest started, I have been studying the designs the brand and its products from the 80s and 90s as part of my fashion studies. And through this contest I've had the opportunity to use my research, design and creative skills to show the world new possibilities. Winning the competition and receiving the recognition and accolades from so many people and platforms has really opened new possibilities. As a member of Diamond FC and with Umbro's support, I'm looking forward to pushing the boundaries of upcycling and my own skills.
You are currently studying fashion, what are your future ambitions?
Like many of my peers, my dream is to become a world-renowned fashion designer. I hope that my work will be appreciated by many people and that Egor will grow into a global brand in the future, giving back to my family and friends who have supported my dream so far. I would like to make the most of my skills and Umbro's potential at Diamond FC, gain recognition from many people, and follow my dreams.
Take a closer look at Egor's winning #MakeNew project on @umbro social media channels. Stay tuned for more content from him and our other Diamond FC members coming soon.