Campaigns
Make New X EGOR
Earlier this year, we called upon talented creators and designers to share their best upcycled projects with us. From all entries, a shortlist of four finalists were selected and tasked to create a unique project using a mystery selection of double diamond products.
The finishing touches have been made and over the next week, we will be showcasing projects from our 'Make New' finalists. First up, we have EGOR and their project titled 'Reimagined Umbro'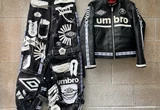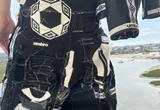 What inspired you to start working on/with upcycling projects?
When I was in high school, there were a lot of clothes that I wanted, but most of them were expensive or didn't fit me properly. That's when I realized that if I made my own clothes, I could have unique wardrobe that really reflects my personality and style.
Where do you draw inspiration for your projects from?
Inspiration comes from various aspects of daily life, especially from other people's outfits. It is from there that my own style has been established. To express the freedom of fashion, I often combine different genres of clothing in my creations.
Which methods and materials do you to prefer to use to create your projects?
I like to use inexpensive materials that I find at thrift shops or second-hand stores. This allows me to expand the range of my creations to include not only men's clothing, but also children's and women's too.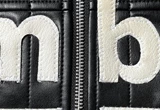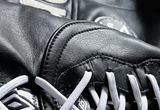 You've created a special project for the final of Make New, tell us more about it?
My style involves combining different genres of clothing. For this particular project, I chose to use leather as the material and created a racing jacket and baggy pants with a silhouette that is not typically associated with sportswear. I put a lot of effort into the pants, incorporating various parts that were salvaged from Umbro shoes, bags, and balls. This resulted in a one-of-a-kind pair of pants that can never be replicated. The jacket, although simple, has subtle details that contribute to its unique coolness. Creating a racing jacket from a sportswear brand has been one of my dreams so I am proud to bring it to life for the campaign.
What does the opportunity to have your work featured in the Make New campaign mean to you?
I aspire to be a fashion designer and have been striving for the growth of my own brand. I hope that this opportunity will allow more people to see and appreciate my work around the world.
Check out more projects from finalists on @umbro social media channels or by searching #MakeNew. On 07.10.23 at 10AM UK Time, each project will be entered into a public vote on the @umbro Instagram stories and we need you to vote for your favourite.