Umbro has dropped a spicy Black/Saffron/White colourway for Velocita Pro, so players can quite step out onto the pitch in style.
Velocita is designed for players who need multi-directional agility and speed. From hard stops to split-second turns and directional changes. In simple terms – the faster you move, the more you are a blur to your opponent. The faster you move, the more time you have and the less time your opponents have to stop you. The faster you move, the quicker the ball is in the back of the net.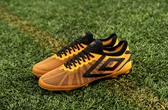 Combining the super lightweight PEBAX Sprint+ outsole with a unique stud geometry gives you all the speed potential you need to make tracks and beat offside traps with pace, power and poise.
The thermo-bonded V-Frame supports your foot posture for multi-directional agility to make quick changes of pace and create space.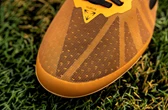 Last but not least, vent knit adaptive fit technology will keep your foot in its natural position even at top speed. Your legs might get tired, but your feet never will.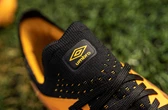 Velocita Pro is available in Black/Saffron/White from 13.04.22. Keep up with the campaign on @umbro social channels or search for #blurtime.