Team Kits
Santos FC 23/24 Third Kit
Santos FC and Umbro Brazil, pay tribute to the club's history in Asia with the release of the 23/24 Third Kit.

Drawing inspiration from the clubs' tours across Japan, China, South Korea and beyond, the kit tells the story of historic encounters with nations across Asia and more.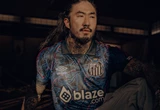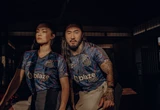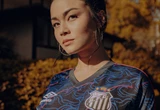 For 23/24, the kit includes a unique graphic treatment featuring the courageous carp, a symbol of strength, persistence, and triumph in Asian cultures. The revered fish's ability to navigate against formidable currents and waterfalls parallels the club's own spirit on the football pitch.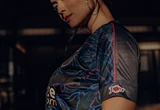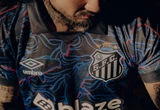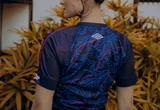 The kit is dominated by a deep blue hue, adorned with lighter blue and red elements symbolising waves and stylised carp motifs. A special label on the sleeve proudly bears the word "Japan," elegantly inscribed in a font inspired by Japanese script, seamlessly merging with the Japanese flag. The player names, shirt numbers, and sponsorships also use a classic Japanese font. 
A distinctive 'bat' style collar and cuffs in matching dark blue, adding a touch of flair to the overall design. Complementing the jersey are dark blue shorts with a striking red side detail.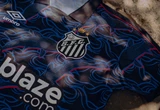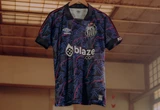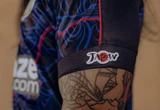 This kit encapsulates a unique chapter in the club's storied history. It not only honours their global impact but also pays tribute to the unique relationship with Santos and Japan and a celebrates of a legacy that transcends borders. 
The 23/24 Santos Third kit is available to order via www.umbro.com.br,  online club store and selected retailers in Brazil now.