Team Kits
Sport Club do Recife 23/24 Third kit
Brazil's Sport Club do Recife have revealed a new Third jersey for 23/24 honouring one of Brazil's greatest names in literature and culture, Ariano Suassuna.
Born in 1927, Suassuna first moved to Recife at the age of 15 to study law and philosophy. It was here that he first experienced the vibrant culture of the city and the passion of the club and its supporters. This was something that he carried with him wherever he went, always dressed in black and red and forever a proud follower of the Rubro-Negro.
For 23/24, the Third jersey takes inspiration from Suassuna's signature style, a black jacket and red shirt. A vertical red stripe runs down the centre of the jersey which is complimented by pictograms representing many of the author's works.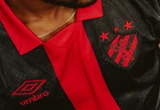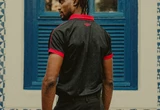 Further details include a red retro-style collar, special fonts used for numbers and names representing those created by the Brazilian Academy and sleeves cuffs in red.
The finishing touch is a special label styled like a book and featuring Suassuna on the cover alongside the phrase "Felicidade é torcer pelo Sport" (Happiness is cheering for Sport), his signature and year of birth next to the infinity symbol.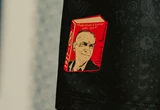 The 23/24 Sport Club do Recife Third jersey is available now via Umbro Brasil.