Campaigns
Make New X Tuesday Pickup
We are celebrating the art of upcycling and the work of creators around the with our latest campaign 'Make New'.
For chapter 2, we've teamed up with Tuesday Pickup who were challenged to transform Velocita Alchemist boots into a unique home décor piece using their signature upcycling style. We caught up with them to talk about first steps into upcycling, inspirations, and the project.
What inspired you to start working on upcycled projects?

I've always loved the idea of taking something that might be on its way to a garbage bin and infusing some new life into it. I find it fascinating when individuals can restore old cars, old furniture or anything of the sort and that whole idea of putting your own spin on an item and being able to immediately increase its appeal, is something that has always stood out to me.
Where did the inspiration come from for your unique style of work?
Football has always been a big part of my life. As I've grown older, I've wanted to figure out a way to develop a brand that would allow me to work within the game. Lots of ideas have come and gone, but there was one that always stuck with me. The idea of combining two vastly different things, to create something new and unique. Those two things happened to be home décor and Football.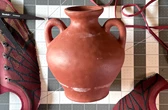 You've created a unique project for Make New, tell us more about it.

Initially, I couldn't decide between upcycling a ball, or a pair of boots for this project. The Velocita Alchemist, happened to be the perfect answer. I love the colours and the material worked really well. In the theme of combining two vastly different things, I liked the contrast between the rough, unperfect scraps from the boots, and the classic style clay vase that I used. It was about taking two straightforward items and making something totally new and unexpected. It was pretty time consuming to get just right, but I'm happy with how it turned out and what it symbolises.
What tips would you give to anyone looking to start their own upcycled projects?
I'd say don't be afraid to make mistakes, but most importantly make sure that you make time for the projects that excite you. Even if it's outside of your nine to five, I find it so important to have a passion project that you work on within your own terms. Something that you explore freely and set aside for yourself.  When it comes to upcycled art, stay open to wild ideas and get experimenting.
Find out more about Tuesday Pickup's project on @umbro social media channels or by searching #MakeNew. Have you got upcycling skills? Why not upload your work here and you could become an official Umbro upcycler.