Campaigns
The Link-Up X Doug Reed
Umbro's content series, The Link-Up returns for episode 3 with professional Futsal player and England international Doug Reed.
Featuring interviews with industry insiders delivered via pre-recorded sessions or live content on Umbro's social channels, The Link-Up gives a unique look behind the scenes of the sports industry across a number of topics.
In the third episode, Umbro talk to Doug Reed about his journey and experiences throughout his Futsal career as well as advice for young players looking to play at the highest level of the game.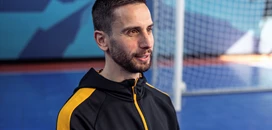 Episode 3 is available to watch now right here on umbro.com so sit back, press play and enjoy.Stay up to date with the campaign on @umbro social media channels or search #thelinkup.