Apparel
Our Game lives beyond the pitch - 2nd half
Umbro France have teamed up with designer Sébastian Strappazzon to drop a new collection celebrating the euphoria of Football
Inspired by his experiences in music, film and design, Sébastian Strappazzon co-founded Franco-swiss fashion brand, Avnier in 2014. Their collections are inspired by music, youth culture and sustainability.
For Spring/ Summer '22, the unisex collection draws inspiration from youth culture and the exhilaration experienced through Football. This is captured through a heatmapping-inspired colour palette, exploring the method of mapping emotions on the body through a variation of colours and gradients.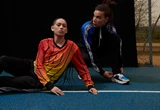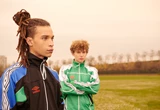 Key pieces include the Tracksuit Jacket, Oversized T-shirts, Polo Shirts and The Pitch Crew, a jersey incorporating all colours of the collection as gradients for the perfect laid-back look.
The "Our Game lives beyond the pitch, 2nd half" collection is available now via umbro.fr