It's a training thing
It's a training thing X Philipp Pless
Philipp Pless is a professional Futsal player for the reigning German champions and his country
Early on in his career, Philipp adopted a mindset to work hard and get better day by day. His motivation is simple, to become the best version of himself that he can possibly be.
When it comes to training, he continually pushes the limits and takes great joy from seeing his performances improve, a clear sign that the hard work pays off.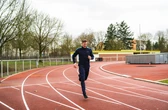 Philipp's training doesn't stop when he leaves the court or gym, it continues with his daily life. From recovery through to nutrition and rest, it's non-stop.
Find out more about Philipp's story on @umbro social channels or by searching #itsatrainingthing.