Campaigns
Make New X Sophie Hird
We are celebrating the art of upcycling and the work of creators around the with our latest campaign 'Make New'.
For the final chapter, we've teamed up with Sophie Hird who we challenged to transform a pre-loved Speciali boots and footballs into a unique garment. We caught up with Sophie to talk about first steps into upcycling, inspirations, and the project.
What inspired you to start working on upcycled projects?
I had just finished an internship and when I left, I brought back lots of boxes of samples that the company no longer needed. I then moved to Deptford to finish my final year of Uni where there was a weekly car boot sale on so I started going every Saturday to collect more and more sportswear.  
Having all the surplus samples and the car boot on my doorstep, I think it was then when I began considering up-cycling as a concept. I'd always felt a bit out of my depth fabric shopping as a student in London, but loved the idea of finding treasures at the boot sale and haggling for my fabric.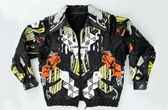 Where did the inspiration come from for your unique style of work?
It's hard to say because each project I've worked on has been so different. When I started working with football pieces it wasn't because I was a die-hard football fan, I was more interested in the characters that surround it and working from that. I'm also always drawn to working with unconventional materials and challenging myself to make it work.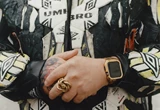 You've created a unique project for Make New, tell us more about it.
When I think of Umbro, I think of 90s tracksuits and iconic colour blocking because that's what I grew up wearing as a child. I was also interested in more obsolete materials that you don't see as much in sportswear anymore and thought about making a garment that you wouldn't traditionally buy from a sports brand. This ended up becoming a leather style biker jacket.
The jacket is made from a range of pre-loved footballs and Speciali Boots. I was really intrigued when I started to tear these products apart and wanted to strip them back down to their bare bones, reworking them into something new. There are a lot of layers and separate components that make up the boots that I was unaware of, so I let these lead the design and the colour blocking throughout the jacket.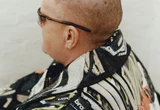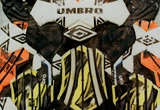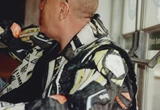 What tips would you give to anyone looking to start their own upcycled projects?
 Go for it! Try not to be precious about it all going wrong on the first go, it's a completely unique style of working and you'll face more hiccups with fabrication and materials so go easy on yourself and have fun with it.
Find out more about Sophie Hird's project on @umbro social media channels or by searching #MakeNew. Have you got upcycling skills? Why not upload your work here and you could become an official Umbro upcycler. 
Photography by Laura McCluskey.