Campaigns
Make New X Martha McLoughlin
Earlier this year, we called upon talented creators and designers to share their best upcycled projects with us. From all entries, a shortlist of four finalists were selected and tasked to create a unique project using a mystery selection of double diamond products.
The finishing touches have been made and over the next week, we will be showcasing projects from our 'Make New' finalists. Next, we have Martha McLoughlin and 'Puck to party'.
What inspired you to start working on/with upcycling projects?
I've always had such a desire to add elements to my clothes that suited my personality which I couldn't find in shops in my price range so headed down the DIY route. I used to cut up my own clothes for my Bratz dolls and risk war with my mother. But they looked better on them anyways so no regrets. 
Where do you draw inspiration for your projects from?
When designing, I like to make a cocktail of my experiences, culture and surroundings. Growing up in rural Ireland, I was always drawn to the aesthetic of the city. I look at the harsh collaged walls with ripped posters, graffiti and stickers and together it gives a sense of collaborative art and creative community.
I like to mentally collect shapes I see on the streets to transform into a texture or print. Being a proud Irish lady, I also find Irish folklore and history so intriguing. I embrace our culture of storytelling and try to emulate that idea in a more contemporary way through creating lawless garments with an energetic character in mind.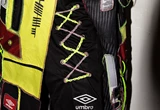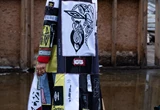 Which methods and materials do you to prefer to use to create your projects?
I prefer making clothing from existing, unwanted fabric that needs a new lease of life. To do this I usually go to charity shops or scavenge through bags of clothes that people are ready to dump. I mostly enjoy taking elements of a garment that interests me and then combining it with my artistic point of view to make something I'd actually wear. My favourite methods of creating an image on fabric would be spray painting or screen printing. I could sit and cut out stencils all day long , I find it so therapeutic. Screen printing is more more efficient for intricate details and layering colours but more goes into the process. I studied Fashion, Knitwear and Textiles in college which was heavily knit based. I  appreciate hand knitting and crochet as it is a slow process but so rewarding when it's complete knowing a textile was created entirely by your own hands. 
You've created a special project for the final of Make New, tell us more about it?
The concept for my project is a culmination of Irish culture new and old. I wanted to portray the popular Irish sport hurling. I live in Limerick City and the youths of today commonly enjoy a puck around (the equivalent of a kick around in football).
My idea is when you have a puck around at 8 but a Rave at 10 (puck 2 Party). I hoped to emulate the adrenaline rush of playing a sport in a derelict space but also the booming rave culture and underground music scene that Ireland has to hide due to strict licensing laws and common club closures.
I tried to capture this duality of our culture through my hero imagery in my favourite city, Limerick. The jacket mimics brick street walls that are dotted with tags, umbro and Celtic style stickers and a big poster on the back of a screenprinted motif I created for the project. A statement piece for before and after partying. The green and white ties in to the limerick flag also. The look underneath is reworked bags and shorts eyeleted and screenprinted. I got my gorgeous friends involved to capture the social buzz of youth culture we experience together.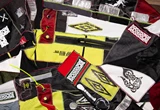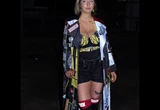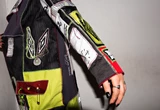 What does the opportunity to have your work featured in the Make New campaign mean to you?
It means so much to participate in this competition. Umbro was the first sports brand I was exposed to. As a young one, my dad had Umbro boots and he got me playing football all my life and there are good sentimental memories attached to the brand for me. I am proud with the outcome of my entry visually and narratively. I hope the craic agus ceol (fun and music) comes across in the video as I wanted to represent my habitat well whilst showing some modern sexy streetwear with a Celtic Irish twist.
Check out more projects from finalists on @umbro social media channels or by searching #MakeNew. On 07.10.23 at 10AM UK Time, each project will be entered into a public vote on the @umbro Instagram stories and we need you to vote for your favourite.