Campaigns
Make New X Slow Projects
Earlier this year, we called upon talented creators and designers to share their best upcycled projects with us. From all entries, a shortlist of four finalists were selected and tasked to create a unique project using a mystery selection of double diamond products.
The finishing touches have been made and over the next week, we will be showcasing projects from our 'Make New' finalists. Next up, we have Slow Projects and a fresh take on sneakers.
What inspired you to start working on/with upcycling projects?
Like anything connected to passion, it wasn't a momentary decision but a culmination of experiences which grew out of a love of footwear and fashion. It took me a while to understood sustainability and sustainable practices but through experience, I was exposed to it by some people and from there, started to look at the materials I had available to start making shoes. To me, extending the story or life of a pair of sneakers or garment is more attractive than simply replacing with a new one.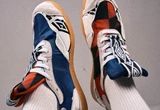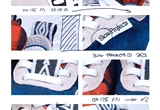 Where do you draw inspiration for your projects?
I have no idea, honestly. I find my brain goes a mile a minute over anything and everything. Maybe it's the crashing together of ideas and information that evolve into whatever project is in my mind. I get a great deal of satisfaction from solving problems and doing weird and wonderful things. I find this naturally leads to the next project I want to start.
Which methods and materials do you to prefer to use to create your projects?
I was trained in design with the rationale that the idea comes first, then the materials. This approach has led me to working with a wild mixture of mediums and methods. I love getting stuck in and working with my hands, tactility and touch just makes sense to me. By experiencing different textures and objects such as furniture, prints, paintings, it's inevitable that I ended up favouring textile and footwear projects. Like ticking off one big bingo sheet, I just love making interesting things, whatever the material.
You've created a special project for the final of Make New, tell us more about it?
The idea behind my project was always about combining upcycling, football culture and the history of Umbro as a brand. That seemed like a natural evolution into footwear and representing that culture through a unique pair of sneakers. By using footballs and jerseys, I really wanted to show that you can do unexpected things with anything around you. Giving a new perspective on what you have and what's there.
Sometimes, the biggest and best solutions to world problems are stumbled into by random moments of joy or frustration that lead to inspiration, and although this pair of shoes isn't solving any world problems, I hope it inspires others to look at what they have around them, and what they don't use in a different light. I also hope that projects and campaigns such as this will maybe inspire the next generation and answer a few more questions around big sustainability issues.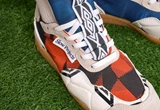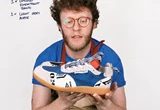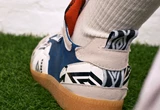 In your own words, what does the opportunity to have your work featured in the Make New mean to you?
It's awesome. Being able to do something I love and work with a brand that I grew up with is a bucket list moment for me and I'm proud of the project. Life pushes you in so many ways to tell you what you're doing wrong, so I'm taking a moment to enjoy, be happy about the whole process and being featured in the campaign is the cherry on top of a very tasty cake.
Check out more projects from finalists on @umbro social media channels or by searching #MakeNew. On 07.10.23 at 10AM UK Time, each project will be entered into a public vote on the @umbro Instagram stories and we need you to vote for your favourite.