Collabs
The MTV collection by Umbro
Umbro has teamed up with MTV to revisit a cultural revolution and celebrate the rise of Acid House.
During the late 1980s, Football fans began flocking to music venues, swapping terrace culture for club culture. In other areas of music culture. MTV had a dramatic impact on music, motion pictures and television – looking good (or at least interesting) on MTV became as important as sounding good when it came to selling records.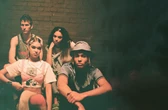 At the same time, a new genderless uniform consisting of oversized football and sports silhouettes appeared on the trend scene. The 'baggy' style was worn for comfort with extremely oversized fits that enabled the loose-limbed liquid movements of the dancers.
For Spring/Summer 2023, the collection nods to club culture, Acid House and Baggy style with plenty of vibrant colours, checkerboard patterns and in-your-face graphics.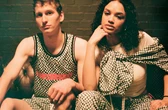 Styled in a slightly oversized fit, key pieces include the Coach Jacket and Track Pants in Shaded Spruce and Brilliant White: A hoodie, styled in Brilliant White and Graphic T-shirts in Shaded Spruce, Brilliant White, Jade Lime, or Malibu Blue. A Football jersey is also available featuring a warped checkerboard print, flat knit rib collar and embroidered double diamond and MTV logos on the chest.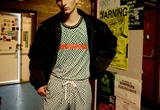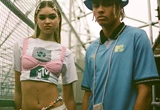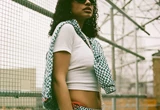 The collection also extends into footwear and accessories including the Copley 'Checkerboard Sneaker' available in Shaded Spruce, Malibu Blue or Jaded Lime. A Waistpack bag, Bucket Hats and Baseball Caps are also available for perfect Acid House inspired outfit.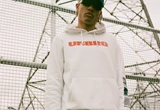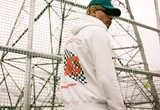 The MTV collection by Umbro is available now in selected countries.