It's a training thing
It's a training thing X Harrison
Harrison found CrossFit online. Having played rugby from an early age, he developed a lot of transferrable skills: running fast, jumping high, changing directions quickly, lifting heavy weights.
He knew how to train hard and when to push but wanted another challenge. From routines on the rugby field, a typical week now involves a number of different disciplines including aerobics, gymnastics and strength training, as well as coaching his own classes.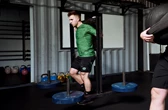 "Personally, I love training with other people. It lets me push myself a little bit more"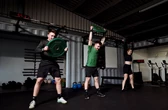 For Harrison, this form of training feels more community-based and team-orientated rather than an individualised one. He loves to train with friends as it allows him to get competitive and makes him feel like he's part of something. It gives him a feeling of instant gratification, pushing himself to the limit in each workout.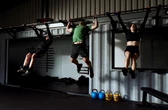 Check out more on Harrison's story on @umbro social media channels. Stay tuned for more #itsatrainingthing stories coming soon.