Team Kits
Our Game is sweet
It's that time of the year again when we proudly present the 1.FCN limited edition Christmas jersey.
The city is known worldwide for its Christmas market and seasonal treats such as Lebkuchen, a type of gingerbread biscuit with a very specific pattern of almonds on the top. This is where we got our inspiration for the 20/21 jersey from. It features a Lebkuchen graphic in the traditional traditional club colours red and black.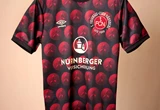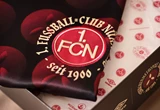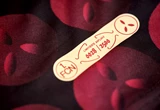 This is a limited-edition for the keen kit collector - only 2500 pieces have been produced with each jersey featuring its own unique number on the front of the shirt, just below the main sponsor Nürnberger.
Other details include a medieval inspired typeface surrounding the crest and further Lebkuchen features below the backneck together with the text "Metropolis of Gingerbread since 1395" (when this delicacy is said to have been baked for the first time).  The jersey also comes with its own gift box.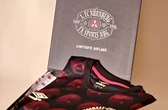 On 13th December, the 1. FC Nürnberg players will proudly wear this limited-edition kit in their home game against Würzburger Kickers, one of their regional rivals.
You can secure this treat of a kit at the official 1. FC Nürnberg shop, where the jersey will be sold exclusively.