Team Kits
Santos 21/22 home & away jerseys
They say that lightning never strikes twice, but with thunder, it's a different matter altogether as Brazil's Santos FC drop new 21/22 home and away jerseys inspired by some of the club's greatest players – "The Boys of Vila" locally also known as the "Thunders".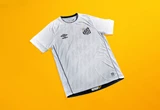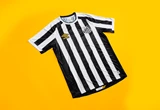 Styled in the club's traditional white, the home jersey features a lightning bolt pattern across the front, back and cuffs. This is complemented by black trim on the collar, creating a look that is equally at home on the terraces of the Estádio Urbano Caldeira or in the streets of Vila Belmiro.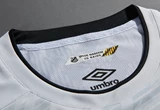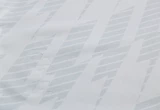 The away jersey continues with the thunder bolt theme incorporated into the iconic black and white stripes and is finished off with white cuffs on the sleeves and a black collar trim.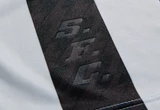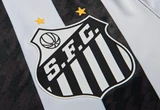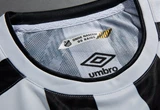 Both designs are signed-off inside the neck and at the bottom of the hem with the words "Santos is the club where the Thunders are born - Boys of Vila". Both jerseys are available now via Umbro Brasil.