Team Kits
Dynamo Dresden 21/22 Third Jersey
We've joined forces with 2.Bundesliga's Dynamo Dresden to drop a new third jersey for 21/22.
The design takes inspiration from one of the city's most iconic landmarks, the Dresden Frauenkirche. Originally built in the 18th century, the church was destroyed during the second world war and its ruins left as a memorial. Nearly 50 years later, work to rebuild it began and construction was finally completed in 2005.
For 21/22, the jersey is styled in white with a graphic pattern across the chest. This pattern features contrasting geometric shapes in grey which is inspired by the exterior of the church. To complete the look, both the collar and sleeves have been styled in claret and white.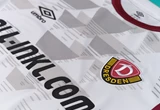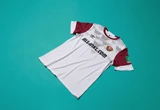 A special signoff featuring '1953' has also been added to the neck to honour the year that the club was founded.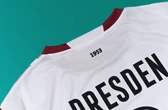 The jersey is available to order now via the Dynamo Dresden online store.